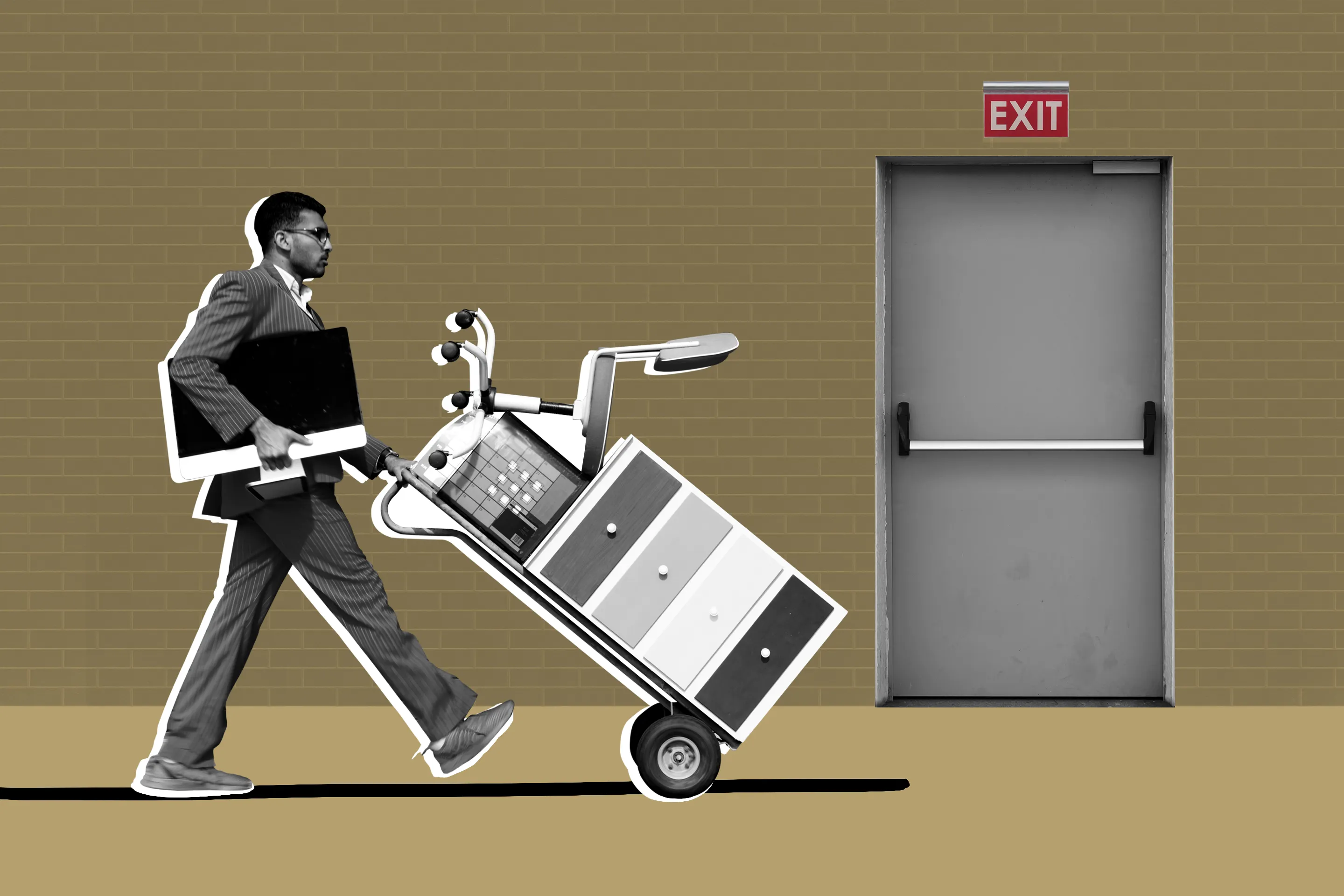 Join the Great Resignation? Don't forget your 401 (k)
Whether you call it a jobs crisis, a labor shortage, or the Great Resignation, you can't ignore the trend: people are quitting their jobs in droves.
Recent figures from the Bureau of Labor Statistics indicate that 4.3 million Americans quit in August, likely inspired by their padded savings accounts and lingering health concerns amid the pandemic. There are 10.4 million job openings in the United States, which means workers finally have the upper hand in the job market.
"People are re-prioritizing what is important to them and the social contract they have with their employer," says Sri Reddy, senior vice president of retirement and income solutions at Principal.
It's easy to get carried away by the fervor, but experts say remember that what you do now could impact your finances in the long run. Before slamming that strong-term resignation letter onto a boss's desk, it's crucial to consider the potential consequences for your retirement, even if it's decades away.
Here is what to do.
Prepare to take the plunge
Katherine Tierney, senior retirement strategist at Edward Jones, says you need to know where you're going next before you quit your current job. If you change companies, create a new position. If you're starting your own business, make sure you have financing, location, and paperwork.
Then, "review your finances to make sure you can financially support your next move," Tierney says. This includes continuing to save for long-term goals like retirement during the transition. Any interruption in your retirement savings now could result in big losses down the road.
Ideally, you want to have a hidden emergency fund with three to six months of essential expenses. (FYI: If The Great Resignation makes you freelance, you might want a year.) That way if something disastrous happens, you won't have to dip into the money you've set aside for your retirement.
Read the fine print
You probably enjoy several benefits in your current job – according to the BLS, two-thirds of workers in the private sector have access to employer-provided pension plans. Alas, says Reddy, they can come with a catch.
If you contributed to your 401 (k), for example, that money is yours. But if your employer has contributed these funds, chances are you don't own them 100% until some time has passed. Companies often adhere to what's known as a 401 (k) vesting schedule as a way to encourage employees to stay longer. Look for these dates before you leave the ship.
"You want to be very careful because if you're a few months away here or there, you risk leaving thousands of dollars on the table that you just simply forgot," Reddy adds.
Leaving a job earlier than expected can also affect other benefits, such as tuition reimbursement or student loan assistance. Check your work documents for reimbursement clauses and ask human resources if your departure means you will have to pay the money the company has already given you.
Look beyond the salary
Ross Cohen, Wealth Advisor and Certified Financial Planner at Bartlett Wealth Management, cautions people not to look too much at the salary associated with a new role. Consider basic factors such as its location and remote work policy. Then look at all of the compensation, including its 401 (k) offers, profit incentive plans, and stock options.
Here too, consider the time horizon. If you are only using the role as a milestone job, you might not be there long enough to reap the rewards.
Reddy says to pay close attention to health care benefits. Changing insurance providers can end up costing you money, especially if you or a family member has an illness that requires access to certain doctors or a specific type of treatment. In these cases, "your base salary may not show what your costs will be," he adds.
Take care of your 401 (k)
As you finish a job, check your 401 (k). Be especially careful if you have borrowed against him.
Each 401 (k) plan has its own policies, but "if you quit [your job], many of these loans become due immediately, "says Reddy. If you don't repay the money, the IRS considers the resulting compensation as a disbursement, which comes with a 1099-R, taxes, and possibly a penalty, depending on your age.
Another consideration is your 401 (k) balance. If it's less than $ 1,000, employers usually send you a check – which will trigger tax consequences and the penalty unless you transfer it to your new 401 (k), if the plan sponsor allows, or in an Individual Retirement Account (IRA) within 60 days.
Consolidating your retirement funds into one account can be helpful so that "you don't have those little accounts lying around," Cohen explains. It can also allow you to design a more comprehensive investment approach and strategy.
Follow your happiness
Seize the big resignation as a chance to make sure you're in a position that matches your passions. At the very least, the more you enjoy a job, the longer you'll stay there and the less you'll have to deal with retirement planning changes.
Tierney recommends calculating the numbers to make sure you're setting aside enough to afford the (possibly) desired lifestyle in retirement. If in your new role you have more income, you may want to adjust your approach. Contribute more to your 401 (k), of course, but also reflect on yourself: what gives you the most fulfillment? Is it family? To travel?
Changing jobs can offer "an opportunity to retire earlier or to do things in retirement that you hadn't even thought of before," Tierney adds.
More money :
America has more job openings than ever before
Companies are so desperate to fill jobs they are ditching drug testing
This could be the best year to get a seasonal job