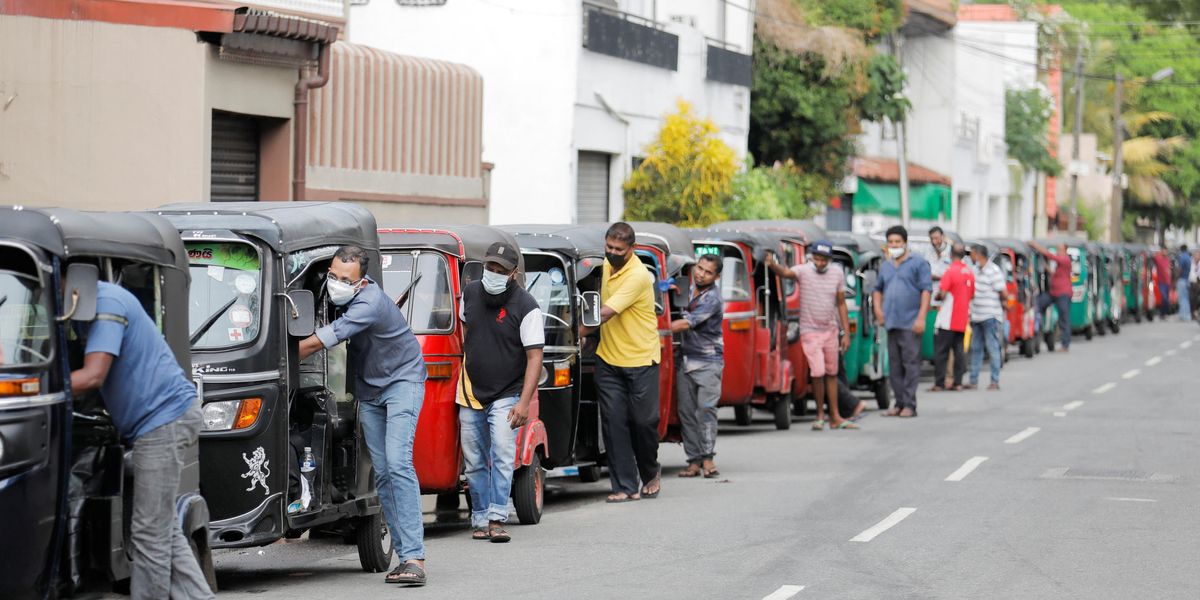 Is the global debt apocalypse here?
As the world largely began to move into the "we have to learn to live with it" stage of the pandemic late last year, many economists predicted that hard-hit low- and middle-income countries could finally do pause.
But then Vladimir Putin's imperialist instincts got the better of him and Russia decided to crush Ukraine. The economic effects of the war reverberate around the world, with food and fuel shortages causing already high inflation to soar. Unsurprisingly, emerging market economies with shallow pockets are in shock.
---
The backstory. Amid the pandemic, many low-income countries have taken New debt to insulate their economies from the economic pain caused by lockdowns, closed borders and business closures. But even before COVID, many countries – like Zambia, Sri Lanka and Ecuador – were already heavily indebted due to government mismanagement and corruption. The pandemic-induced recession has swelled global indebtedness to its highest level in 50 years.
Let's consider two case studies – Sri Lanka and Egypt – to help understand how things have unfolded in many low- and middle-income countries in recent months.
Although Sri Lanka has borrowed heavily – mainly from China, Japan and India – since the end of its brutal civil war in 2009, it has never defaulted until now.
President Gotabaya Rajapaksa introduced major tax cuts in 2019 that decapitated the country's main source of revenue. Then COVID-19 hit, decimating the country's once booming tourism industry and reducing remittances. As its foreign currency reserves dried up, Colombo resorted to printing more money, which further drove up prices and lowered the value of the currency.
Long entangled in a Chinese debt trap, Sri Lanka narrowly escaped default last year thanks to a handout from Delhi, but that didn't last: it has now suspended repayment of its external debt . Food prices have soared to "unbearable levels", fuel is scarce and power cuts are rife.
In the case of Egypt, the currency has been more stable in recent years, largely due to control measures put in place by the state-run central bank. Yet amid a near economic collapse in 2016, Cairo agreed to austerity measures as part of an IMF deal. While the reduction in energy subsidies has stabilized the economy somewhat, things have been tough enough for ordinary Egyptians: living standards have plummeted, unemployment is rampant and almost a third of the country's 102 million people live in poverty.
Then came the war in Ukraine, which brought down the world economy and the food industry. Ukraine and Russia account for a third of global wheat exports, much of which has been disrupted.
"When energy prices rise, it puts a financial burden on all kinds of businesses, from fertilizers to transportation," World Bank President David Malpass said during GZERO Media's live stream on Funding the Future in Washington, DC on Thursday. "These are dead costs that cannot be recovered."
"We need to create a new supply in the world to replace the supply that is lost," Malpass added shortly after speaking with Ukrainian President Volodymyr Zelensky and finance ministers from 20 countries about the need to adapt. and rebuild.
Consider the fallout in Egypt, where food prices – especially bread – are at the heart of national politics. Import-dependent Egypt buys the most wheat of any country in the world – 85% from Russia and Ukraine – and is therefore extremely vulnerable to economic shocks in the international market.
In response to food and fuel shortages and rising inflation in recent weeks, Egypt's central bank has raised interest rates and imposed price controls on unsubsidized bread. President Abdel Fattah el-Sissi is doing everything in his power to avert the mass protests that rocked Egypt in 2011, leading to the ousting of longtime autocrat Hosni Mubarak.
"A month ago, we had very different discussions about the resumption and the return of tourism," explains Rania al-Mashat, Egyptian Minister for International Cooperation. Speaking to the World Bank's GZERO on Thursday, al-Mashat said that although Egypt has strategic wheat stocks that will last until September, the government continues to work on "immediate mitigation efforts".
But if things continue to deteriorate and Egypt needs help from international lenders, the IMF is likely to demand that Cairo implement major reforms – like removing subsidies – to unlock liquidity. This kind of arrangement rarely bodes well for governments, especially in Egypt, where about two-thirds of the population eat subsidized bread. (In 2008, amid a drought-induced food crisis, Mubarak ordered the army and police to bake bread to lower the temperature amid protests.)
Meanwhile, with growing popular discontent – ​​and double-digit inflation – Sri Lanka has flip-flopped in recent weeks, calling on the IMF to help it restructure its $7 billion debt and debt repayments. interest this year. China, which represents 10% of Sri Lanka's debt, notably refused a request for restructuring.
The IMF says talks with Sri Lankan officials will focus on "public debt which has reached unsustainable levels, low international reserves and still large financing needs in the years to come". But with Rajapaksa facing political turmoil at home – and refusing to step down despite losing support from his own government – it seems unlikely that the IMF will offer Sri Lanka much leeway.
It comes as the IMF warns that all countries will see contracting growth this year. Not only will this make it even more difficult for poorer countries to generate revenue to repay their debts, but rich countries will also be inclined to withdraw investments from low-income countries, further devaluing their currencies. This is already playing out with China, which is becoming more cautious in its lending practices, especially in Africa.
But Malpass warns against backsliding. "I advocated for advanced economies to open their markets more. Recognize that this is a time to make friends, to help people who don't have as many, and that means looking at all your trade barriers…and lowering them.