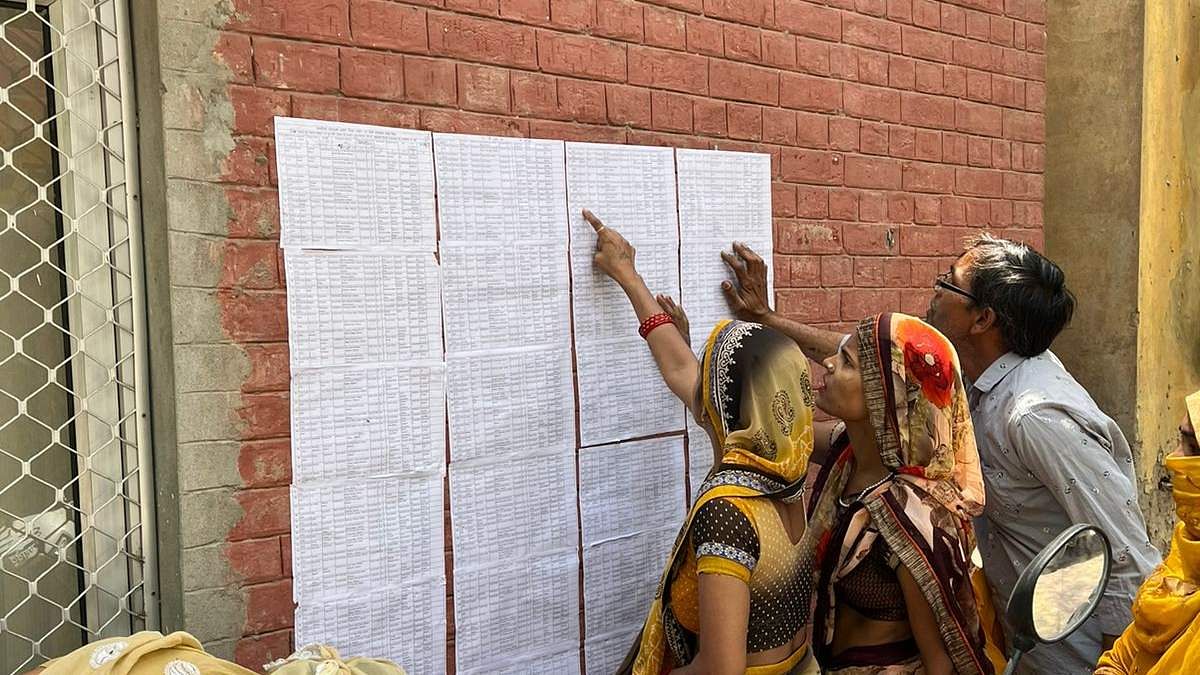 In Meerut, 'startup culture' means hard to get loans, low demand and misplaced hope
Merut: When the pandemic took his job as a salesman away from him in 2020, Sachin, a resident of Meerut in Uttar Pradesh, did not despair. Instead, he started dreaming.
A Dalit, he had long watched his father, a municipal worker, clean up other people's dirt. But what if the family overturned caste expectations and made a fortune making toilet cleaning solutions, he thought.
"I thought of creating a small factory with two machines to manufacture toilet cleaners. My younger brother [who is a chemistry graduate] I had the knowledge and I had the skills in marketing and such," said Sachin, who is now 32 and has a bachelor's degree in computer applications.
Revived, Sachin and his younger brother Vipul applied for a Rs 7 lakh loan under the Prime Minister's Employment Generation Scheme (PMEGP), which aims to give a boost to small entrepreneurs.
However, the dream is receding year by year.
"Our applications have been rejected twice. This is our third time applying," Sachin told ThePrint the last week of April, asking that his full name not be used in case it affected his loan prospects.
When ThePrint spoke to district officials from the Department of Industry, they said Sachin and Vipul had the education and skills to qualify for the entrepreneurship loan, but the bank rejected their application. because the brothers had no social security assets such as land or a house.
"The State Bank branch in the city where my brother's account was registered said we should get the loan from another nearby bank," Sachin said.
It is an ironic situation: the Center as well as the government of Uttar Pradesh encourage young people to start small businesses in Tier 2 and -3 cities – through several subsidized loan programs like One District One Product (ODOP), Mudra Loans, and PMEGP – but there are either issues with banking requirements or barriers to market access due to factors such as a lack of understanding of marketing and demand generation.
ThePrint traveled to Meerut, a major industrial hub in UP, to see how initiatives to encourage 'startup culture' and self-employment outside the metros are unfolding.
---
Read also: Unemployment and unlimited data pack — UP young people are neither angry nor idle
---
"Not really a startup culture"
Last month, the Union Ministry of Micro, Small and Medium Enterprises (MSMEs) issued a statement which stated that 1.03 lakh new "unprecedented" manufacturing and service units and more than eight lakh jobs had been created under the PMEGP.
The Ministry of Commerce has also published The figures showing that startups have grown from just over 700 in 2016-17 to over 66,000 in March this year. Moreover, about half of them come from level 2 and -3 cities.
From time to time, there are glowing releases about the projects supported by Uttar Pradesh, such as ODOP, which aims to encourage the state's unique crafts and products, and the Mukhyamantri Yuva Swarojgar Yojana (MYSY), which seeks to provide self-employment opportunities to educated and unemployed youth.
ThePrint looked at data on these schemes from the Meerut District Administration and found what appear to be modest upward trends in loans for self-employment.
For example, beneficiaries of the MYSY self-employment scheme increased from 77 in 2019-20 to 97 in 2021-22. The subsidy amount also increased to Rs 3.1 crore in 2021-22 from Rs 1.99 crore in 2019-20.
"We have achieved the goals assigned to our district over the years," said VK Kaushal, general manager of the District Industries Center (DIC), which is responsible for promoting MSMEs at the district level. "The numbers are reflected in other programs as well," he added.
Indeed, ODOP beneficiaries in Meerut increased to 45 in 2021-22 from 17 in 2019-20, and 43 from 13 during the same period under the PMEGP. The subsidized loan amount granted in 2021-22 stood at Rs 1.36 crore, compared to Rs 32.02 lakh in 2019-20.
However, MSME loan distributions in Meerut paint a slightly different picture. While there were 45,116 beneficiaries in 2019, there were only 24,385 in 2022. The loan amount increased from Rs 4,291.82 crore in 2019 to Rs 3,601.17 crore in 2022.
Speaking to ThePrint on condition of anonymity, a deputy DIC official said that while recipients of various programs are increasing, it does not necessarily mean new innovative businesses are starting up.
"What is happening right now is not really a startup culture. Those with loans below Rs five lakh rupees cannot really start a business. Funds end up being misappropriated for personal reasons," said the manager.
The demographics of institutional loan recipients also suggest that "young people" — people in their twenties, fresh out of school or college — aren't exactly rushing to start their own business.
In fact, most recipients are in their 30s or even 40s, and some already have previous experience running their own businesses. "In 2017, we had difficulty explaining why people should benefit from these loans. But things are slightly different now. To gain the trust of those in their late twenties, we have a long way to go," the DIC official said.
---
Also Read: How GST is Killing Small Businesses with Inspector Raj and Stifling Compliance
---
Low demand, funds diverted for personal use
Harsh Bhatnagar, 32, looked harassed as he arrived on his scooter at his noodle factory, which he runs from a 300-square-foot facility on the outskirts of Meerut town. Business is not going well and it is a challenge to pay his seven employees.
"I had to sell my car. My house papers are also with a person who loaned me Rs 3 lakh," Bhatnagar said, adding that he was about to close the unit following the Covid lockdowns, which left him in debt. , unable to repay the Rs six lakh MUDRA (Micro Unit Development and Refinancing Agency) Loan he took to set up the business in 2015.
Bhatnagar, who holds a bachelor's degree in commerce, said that since the Covid lockdowns a significant part of his market – street vendors and small restaurants – have closed. "All my clients are gone," he said.
He hopes another loan could help him stay afloat, but is struggling to get one. "I plan to apply again for another loan under the PMEGP," he said. District officials assured him they would help convince the bank, he added.
While Bhatnagar has been involved in the noodle business for several years, newcomers like Ashu, 32, also find themselves in a precarious position.
In 2021, Ashu, a researcher at Chaudhary Charan Singh University, applied for a loan of Rs 1 lakh under UP's self-employment program to set up a vermicomposting plant. "I wanted to build an authentic business," he said. Like many other small town entrepreneurs, he was inspired by the family background, in this case farming.
At first the process was smooth and he didn't have to struggle to convince the bank to give him a loan as his family owns a modest four acre piece of land in Muzaffarnagar. However, although there may be a need for compost in Meerut, Ashu was devastated when faced with the fact that demand was already outstripped by supply.
"There is cheap compost available on Amazon, and there is also a lot of local competition. There are 10-15 businesses in Meerut alone selling compost for home gardening," he said.
Currently, Ashu's compost 'Paudha Amrit' (plant elixir) does not have many takers, which leaves him worried about his future.
"I don't want to go into teaching. I'm hopeful that if it works out, I'll give this startup a boost," he said. He hopes to be able to work on the marketing and come up with competitive pricing if he can stay out of the water long enough.
District officials acknowledged that problems of the type Harsh and Ashu face are not uncommon and that new businesses struggle to thrive for a number of reasons.
"We need qualified and skilled young people to join the industry and blaze new trails, but two bottlenecks have seriously affected the spirit," the DIC official quoted earlier said.
To solve the problems of "knowledge and skill", the Yogi Adityanath government announcement last month that it will launch an online course and certification on entrepreneurship. The idea, of course, is that young people should become job creators rather than job seekers.
However, major systemic barriers are apparent.
The first is that loan programs are driven by supply-side factors, such as targets set for each district, rather than by demand.
Also in the market, demand is often a problem, which means that the sustainability of companies is an issue, especially in the absence of marketing know-how. There is also little focus on assessing viability – sometimes, for example, entrepreneurs obtain raw materials from remote areas, negatively impacting their profit margins.
Other ancillary aspects of a startup ecosystem are also rare, such as mentorship programs, technical assistance, incubation centers, and collaborative programs between government, educational institutions, and private companies. .
According to District Magistrate Deepak Meena, there is another factor at play: Meerut already has manufacturing industries, particularly in the sports equipment sector, and so there are more employment opportunities in these established industries and therefore less incentive for young people to start new businesses.
Add to this scenario the lasting impact of the Covid lockdowns, and the entrepreneurial landscape in Meerut does not currently appear to include a startup boom on the horizon.
(Editing by Asavari Singh)